Parliament has passed a Shs 52.7 trillion national budget for FY 2023/2024 amidst protestations from the opposition on accusations that the budget is out of touch with reality.
The budget which takes effect on July 1, 2023, is scheduled to be read by the Finance minister on June 15. Out of Shs 52.7 trillion, at least Shs 21.4 trillion is set aside for statutory expenditure, covering items such as treasury operations totaling Shs 18.9 trillion, pensions and gratuity for retired civil servants amounting to Shs 856.2 billion, among others.
Shadow Finance minister, Muhammad Muwanga Kivumbi faulted the Finance ministry for failing to itemize and provide for activities under statutory expenditure, a move he claimed is intended to be used as a window of fraud. Kivumbi said the budget is overly ambitious and unachievable.
Ministry of Defence and Veteran Affairs has been allocated Shs 3.8 trillion while Shs 2.4 trillion has been allocated to Uganda National Roads Authority (Unra), the bulk of which is to cover construction of roads. Shs 30 billion was plucked from Unra's budget following the agency's failure to rapidly absorb funds allocated towards the construction of the Hoima-Wanseko road.
Most of the opposition's protestation came against the allocation of Shs 417.9 billion to State House which the Kira Municipality MP Ibrahim Ssemujju Nganda deemed as unlawful and luxurious.
"The total budget for the residency of the presidency in this budget before the second corrigenda was Shs 417.9bn. This means that every day, the president and his family because they are the ones staying in State House, they spend Shs 1.1bn, they spend Shs 47.7m per hour and Shs 795,000 per minute. To put it even more clearly, for every two minutes you can count now, every two minutes, they are spending Shs 1.5m, every two minutes! This parliament would be in breach of the constitution if it passes a budget that allows the president to illegally swim in luxury at the expense of the citizens' welfare," said Ssemujju.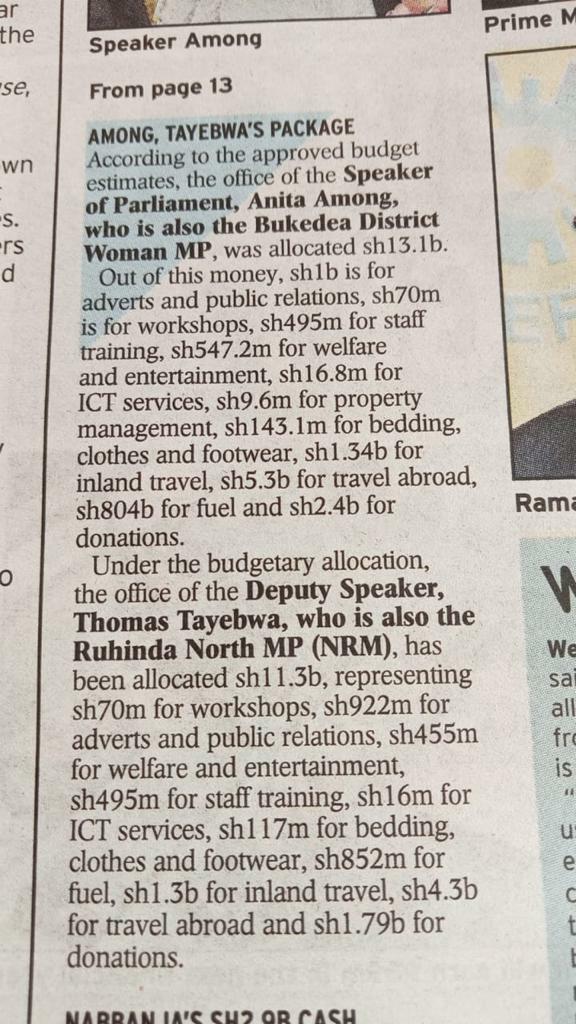 Some of the items of luxury in the national budget
Ssemujju said the president under the constitution works or is supposed to work for the sole purpose of promoting the welfare of citizens, not himself or his family. He wondered why the president has yet again been allocated another Shs 550 million to buy clothes, the same amount that was allocated to him last year. The wardrobe allocations come at a time when Museveni has repeatedly urged Ugandans to promote Ugandan products like him who now wears shoes and clothes manufactured in Uganda by Nytil.
"Shs 350 million to buy clothes, the same amount was provided last year. That means that we're spending on average Shs 1 million on President Yoweri Museveni's clothes every day. Our president is not a [film] star from Hollywood requiring to change wardrobe every day. He's a president of a poor country, why buy him clothes worth Shs 350m every year, what happened to the clothes that were bought last year?" said Ssemujju.
"The president operates two residences at Nakasero and Entebbe illegally. That is why his electricity bill at Shs 500m and water bill at Shs 500m per year is bigger than a big factory like Roofings. Whatever they are manufacturing at State House, only Allah knows ...We're providing Shs 600 million for furniture, we provided the same amount last year. This residence has won itself a place in the history of Uganda. The beds in public health facilities are not there but the president is buying clothes and furniture every year. We're providing Shs 7.8 billion for agriculture supplies, we're also providing another Shs 184 million for veterinary services. Did the president turn State House into a farm without the knowledge of the country? Parliament must be sure that we're not the ones funding President Yoweri Museveni's private farms in Kiozi and Rwakitura...The president has a duty not to abuse State House but if he chooses to do so, this parliament is under obligation to stop him," added Ssemujju.
However, Ssemujju was reminded by the speaker of parliament Annet Anita Among Magogo that allocations to the "presidency statutory and their money is just like parliament. Money that is allocated there can only be discussed by a specific committee. Statutory. Just like you [MPs] don't discuss about your vote of parliament."
Meanwhile, the MPs rejected a proposed Shs 8.5 billion request by the directorate of ethics and integrity in the Office of the President meant to "curb the vice of homosexuality and pornography among the youth."
It is necessary for Members of the Parliament of Uganda to have their assets confiscated for passing expensive and luxurious budgets for this poor African country to pay out.
The MPs also rejected an allocation of Shs 53 billion to police towards a project that in fact had already closed. National Agricultural Advisory Services (NAADS) had made a request of Shs 3 billion to purchase milk coolers but the MPs said this was a duplication since there are other agencies already doing the same.
Shs 8 billion was allocated to the Directorate of Government Analytical Laboratory for the construction of the National DNA Data Bank. Ministry of Finance, Planning and Economic Development's request to increase by Shs 10 billion their workshops and seminars budget and another similar increment of Shs 10 billion to the ministry's travel inland vote was rejected by the MPs.
Shs 66 billion was realigned from Uganda Road Fund and given to Kampala Capital City Authority to cater for Kampala city's dilapidated roads and drainage systems, which recently drew angry social media reactions from Ugandans.
Internal Security Organisation (ISO) was allocated Shs 13 billion more to support intelligence gathering, while the External Security Organisation (ESO) has been allocated Shs 5 billion to support intelligence gathering.
Ministry of Health has been given an extra Shs 18.5 billion for the rehabilitation and maintenance of health centre IIs and IIIs across the country. "The ones staying in State House spend Shs 1.1bn/day, they spend Shs 47.7m/hour & Shs 795,000/minute" The Kira Municipality MP unsuccessfully tried to convince fellow MPs to reduce State House expenditure during the passing of Shs 53tn National Budget #Uganda #UGBudget23 pic.twitter.com/xlYgW1Uav2
Nb