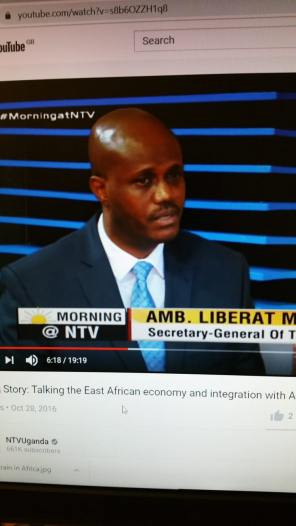 Ambassador Liberat Mfumukeko during the interview. Photo by Eddie Ssejjoba
The Democratic Republic of Congo has formally applied for admission to the six-member East African Community (EAC).

The vast natural resource-rich central African country is seeking to join the regional bloc after various behind-the-scenes rapprochements.

Congolese President Felix Tshisekedi this week wrote to his Rwandan counterpart Paul Kagame, who is the current chairman of the EAC, seeking to join the Community whose member countries are Kenya, Tanzania, Uganda, Rwanda, Burundi, and South Sudan.

"This request follows the ever-increasing trade between the economic players of the Democratic Republic of the Congo and those of the states of the Community," he wrote on June 8.

The Secretary-General of the EAC Liberat Mfumukeko has disclosed that the Democratic Republic of Congo's application to join the regional block has been put on the agenda of the next summit.
He said DRC join the EAC was actually good since the country, which he said is one of the richest in the world in terms of resources was coming with a wealth of mineral resources and offering a large market for member states.

He, however, said DRC will be coming with their own troubles but added the community was uncomfortable having a neighbour in problems and hosting a number of rebel groups that use it as a base to destabilise other countries.
He said the country is admitted, member states will use the chance to help them resolve their issues, which will, in turn, help them resolve the violence in the region. Mfumukeko was Friday speaking to journalists from Uganda, Kenya, Burundi, Rwanda and hosts Tanzania during an interview in his office in Arusha. The

President of DR Congo Felix Tshisekedi submitted the application to join the Community to Rwanda's President, Paul Kagame who is the current chairman of the community. He has also been touring the region to drum up support for his application.
If the application is granted DRC will bring the number to seven partner states. Others are Uganda Kenya Tanzania Burundi Rwanda and South Sudan.